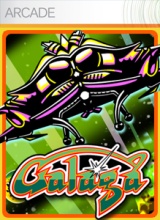 Game Title: Galaga
Platform: Xbox 360 Live Arcade
Release Date: July 26, 2006
Genre: Shoot 'Em Up
ESRB Rating: Everyone
Game Description
Edit
Galaga was released in the arcades in 1981 and became an instant classic. This exciting title soon became known for its innovative fighter combination system and the varied enemy attack patterns. Head for deep space as you recreate the arcade experience with one of the games that defined the genre.
Achievement Walkthrough
Edit

This game has a total of 12 achievements and requires only one playthrough in order to get the full 200 possible. If you die (run out of lives), the game has a continue feature that allows you to select up to the last level you completed, thus eliminating the need to replay the entire game. You also have the option of starting with four lives instead of only having three.
As you play through the game, you will gain many of the achievements naturally by progressing through each level:
For each achievement, regardless if you complete the level or die during that level, you will still unlock the achievements for the enemies, as well as the stage achievements.
Xbox 360 Achievements
Edit
Total Achievements: 12
Total Gamerscore: 200