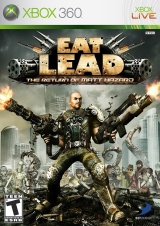 Game Title: Eat Lead: The Return of Matt Hazard
Platform: Xbox 360
Release Date: February 26, 2009
Genre: Other Shooters
ESRB Rating: Teen
Game Description
Edit
In Eat Lead: The Return of Matt Hazard, get ready for a fictional account of the world's most popular videogame hero... of the eighties. Matt Hazard is coming out of retirement and making his next-gen "comeback" against all his old enemies in a hilarious parody of the last 25 years of gaming.
Achievement Walkthrough
Edit

This game has a total of 50 achievements worth 1000 Gamerscore. Achievements include getting kills with certain weapons, acquiring certain numbers of headshots, the defeat of certain bosses or encounters, and destruction of environment. There are also several miscellaneous secret achievements.
Xbox 360 Achievements
Edit
Total Achievements: 50
Total Value: 1000
Secret Achievements
Edit
The following are secret achievements that will only be displayed after they are obtained in the game.
| Image | Name | Description | Value |
| --- | --- | --- | --- |
| | Multiplayer Master! | "What? No multiplayer? Sigh. Well...not like we can take the achievement back NOW...." | 30G |
| | Disco is Dead | Defeat Sonny Tang. "Sonny, YOUR ass is kicked!" | 20G |
| | Stung | Defeat Sting Sniperscope. "Your present ends now." | 10G |
| | Housing Crisis | Escape from Dexter's mansion. "I gotta get me a house like THAT!" | 10G |
| | Talk! | "What do you mean the interrogation feature was cut?!? Here...just take the achievement." | 10G |
| | Head Cheese | Kill all butcher shop enemies with headshots. "You're not PAYING for ammo. Feel free to use more." | 10G |
| | Bedlam Basher | Kill a Bandit from behind with a melee attack. "Good for you. Coward." | 5G |
| | Draw | Get 50 Dual-Wield Six-Shooter kills. "Now all we need is the spaghetti..." | 10G |
| | Russian to the Finish | Defeat General Neutronov. "From Hazard, With Love." | 20G |
| | Deja-Vu | Defeat Sting Sniperscope again in Level 3. "Your present ends now. Again." | 20G |
| | Your Turn | Defeat Altos Tratus. "Forecast for the next level: no more clouds." | 20G |
| | Meat Your Maker | Blast all hanging beef. "Udder destruction? Steaking a claim? Beating your...I can go on all day." | 10G |
| | Well, I Heard them Scream | Get 50 Plasma Rifle kills. "Plasma rifles. They're not just for Space Marines anymore." | 10G |
| | Dances with Guns | Don't let any dance bots die in Level 2. "Do dancing robots dream of disco sheep?" | 10G |
| | Tramm Ride | Defeat the Tentacle Beast of Tramm. "One-two shot right to the tentacles." | 40G |
| | Death Hazard | Score 20 single-shot Zombie kills. "Don't these things usually hang out in shopping malls?" | 20G |
| | Pure Energy | Get 50 Energy Pistol kills. "Blaster? I hardly know 'er!" | 10G |
| | Deja-Vu (All Over Again) | Defeat Sting Sniperscore yet AGAIN in Level 7. "I. Have had. Enough. Of YOU!!" | 30G |
| | Observe the Grenade | Kill three Testers with one grenade launcher shot. "Test the grenades: check!" | 15G |
| | Beat the Snot out of Wellesley | Defeat Wally Wellesley. "Like I said..." | 50G |
| | Meet Quentin. | Meet Quentin. "DUDE!!!!!" | 100G |