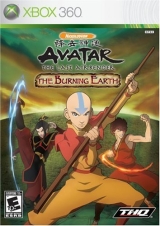 Game Title: Avatar The Last Airbender: The Burning Earth
Platform: Xbox 360, Wii, PS2, DS, GBA
Release Date: October 16, 2007 (Wii, PS2, DS, GBA), November 12, 2007 (Xbox 360)
Genre: Action
ESRB Rating: Everyone 10+ (Xbox 360, Wii, PS2), Everyone (DS, GBA)
Game Description
Edit
Avatar The Last Airbender: The Burning Earth continues the epic adventure of Aang and his courageous battle to restore balance to his war-torn world. Based on the second season of the Avatar animated series, Aang and his friends Katara, Toph, and Sokka must master their skills and fight their way to defend the greatest Earth Kingdom city against a Fire Nation invasion.
Achievement Walkthrough
Edit

This game is the reigning king of easy 1000G games. It will literally take you longer to load the game up than it will to get a full 1000 points. Simply press B several times at the beginning of the game towards your enemies and return this game to wherever you rented it.
Xbox 360 Achievements
Edit
Total Achievements: 5
Total Value: 1,000